We had the opportunity to check out Royal Caribbean's newest ship- Harmony of the Seas. We had already cruised the other Oasis class cruise ships and wanted to stay in one of the Boardwalk rooms so we could people watch! The first day that Cruise & Anchor members could book, I was on the phone with my travel agent! I knew the exact room I wanted- the farthest Boardwalk room in the back of the ship so I could watch the shows in the Aquatheater AND check out the ocean/port views. Plus, we could people watch! I really liked the Boardwalk rooms- only down fall was the naked man bending over in the room across from us. Yikes!
Check out our Boardwalk room on the 11th deck!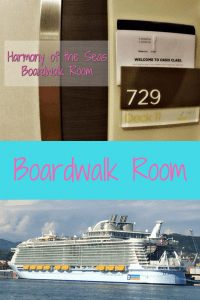 What do you think of this room?! What kind of room would you want?