A hike to one of Tennessee's most beautiful waterfalls- Ozone Falls!
Today, we adventured off to Ozone Falls. It is a 0.8 mile there and back hike to the beautiful 110 foot waterfall. It was seen in the movie "The Jungle Book." Sometimes, the river is really roaring, unfortunately, it was not the day of the video. The boys and I go here every year (as seen in some of the pics above). It is a moderate to strenuous hike to get to the bottom of the falls. Take a look at the video below of our hike to Ozone Falls!
How to Get to Ozone Falls
Take I-40 to Crab Orchard Exit 329 to Highway 70 East. It is about 5 miles down on your right. Look for a sign that reads "Ozone Falls."
So, put on your hiking shoes, and check out Ozone Falls!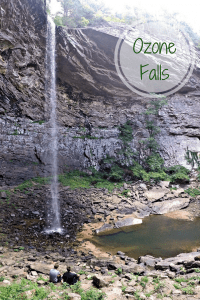 Ozone Falls in the winter