The Chances of Getting a Permit to See the Wave in North Coyote Buttes is Slim!
The Wave and North Coyote Buttes area is one of the most beautiful geological formations on Earth. Only a few lucky people get to experience the majestic views. Due to the limited amount of permits given, some people wait years for access to the land that includes the Wave.
North Coyote Buttes permits are required for day use of the magnificent area. Only 20 permits are given DAILY. There are 10 permits available 3 months in advance and 10 the day before. If you are lucky enough to win one of these permits, you can have a maximum of 6 people in your group. So, this may decrease the chances of winning the lottery, since only 20 people can go a day.
10 Permits Available the Day Before
There are 10 permits available as walk-in permits at the Grand Staircase-Escalante Visitor Center in Kanab, Utah. You must be present at 9AM the day before you want to go to the Wave. During the off season, if it is for a Saturday, Sunday, or Monday, you must be present on the Friday before.
I have heard that there can be over 200 people at some of these walk-in lottery drawings. These lottery drawings bring a lot of visitors to the Kanab area. Some people stay in Kanab enjoying other activities the area has to offer and enter daily until they win.
10 Permits Available 3 Months in Advance
The other 10 permits available in advance are obtained through an online lottery. You can only enter the lottery once per person. You can pick 3 dates for the month you want to go to the Wave area. For example, we wanted to visit in November. Therefore, we entered the lottery in July.
Some people believe it is on a first come first serve basis and you have better chances of winning if you enter early. This was NOT the case in my experience. I entered the very first day of July after watching the video. The video was very informative and explained the risks (even death) well. I picked three dates in a row for the week I wanted to go to the Wave. Then, I paid the lottery fee of $5 and completed the short application. Chris, however, entered the last week of July.
Our Experience in the Wave Lottery
The first of the month is when the lottery drawing is held. We happened to be in Europe on August 1st with limited email access. I was so excited to check my email to see if I had won! Unfortunately, I received an email stating the following:
Unfortunately the dates and entries you chose did not become available to you in our lottery application process for a Coyote Buttes North permit. It is remotely possible the date and entries selected for your trip will be forfeited by the winners because of nonpayment or release. If that happens, the dates and entries will become publicly available via the calendar application process.
Bummer! I was disappointed that I had not won.
I had read that there were around 50,000 applications for the year in 2013. Sadly, I figured that number had only increased over the last 3 years. With those numbers, that meant that I had an average rate of less than 7% to WIN a lottery ticket.
We did not have a chance to check Chris's email until later in the day.
I was not expecting good news after hearing my disappointing news.
Fortunately, Chris received the following email:
Congratulations! You were selected in our lottery application process for a Coyote Buttes North permit. You have until Noon MDT, Monday, August 15, 2016 to provide required additional permit information and payment for your permit ($7). If you miss this date for payment, the date and entries selected for your trip will be released and become publicly available via the calendar application process.
The Wave and North Coyote Buttes Lottery is Pure Luck!
So, this goes to show you that the lottery application process is exactly what it sounds like, a lottery. But, there are things you can do to have a better chance of winning the lottery to see the Wave.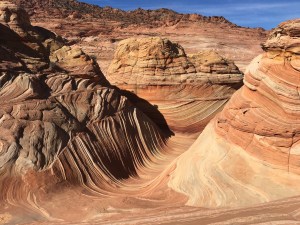 Tips for Applying to the Wave Lottery
Choose a month of the year that is not in high demand. There is a greater chance of winning a permit if you visit December through March. Plus, it is not during monsoon season. That means less risk of impassable roads and flash flooding.
Choose a day of the week that is not as busy. If you are going to be in Kanab, go every morning or on Friday (during off season) for your chance at 3 days to win.
Feel free to leave any comments below!