We spent our Marseille port day in Cassis!
On our port stay in Marseille we decided to visit Cassis and check out the Calanques along the way. Cassis is a former Roman trading post that is found at the bottom of one of Europe's highest cliffs, Cap Canaille. With panoramic views from our tour bus, we made our way along La Ginette then boarded the tram to Cassis.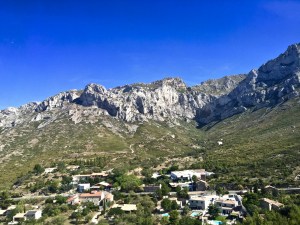 First stop, hop on a boat to see the Calanques!
Calanques are narrow, cliff-walled inlets along the Mediterranean Sea and located in the Calanques National Park. It is one of the most beautiful sites in the world! Check out some of the views!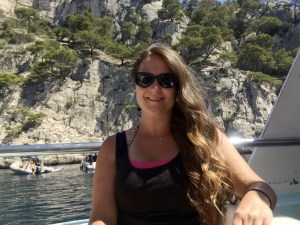 The water in Calanque National Park is SO clear and beautiful!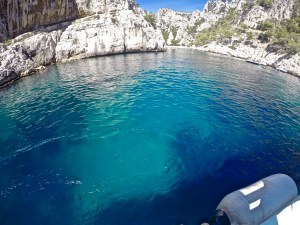 We developed quite the appetite while touring through the beautiful Calanques!
After we got off the boat tour, we started exploring the city of Cassis. It is a quaint, beautiful city overlooking the harbor. There are many restaurants and shops you can stop at along the waterfront. I, on the other hand, wanted to wander off the main strip and see what we could find!
Some of the sites in Cassis.
Chris was ready to eat whatever he could sink his teeth into! I, on the other hand, wanted true French food! After trying to find a place, we noticed a busy, fast food-like burger joint that is open and they cook right in front of you. It was an interesting experience trying to order. We ended up with a hamburger on fresh French bread with fries IN the sandwich. Sounds gross. Totally not my thing. BUT, it was one of the BEST hamburgers of MY LIFE!!!!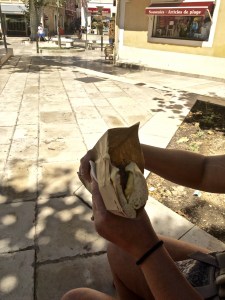 There were other options we could have had too…
After eating, we continued to explore Cassis and took a stroll on the beach. It was our first time stepping into the Mediterranean Sea! The beach was packed like sardines so we decided to people watch under a tree.
Finally, we tried our first authentic French pastry, a crepe!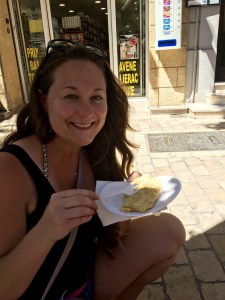 After spending 8 ours in the French sun, we were ready to get back to our ship, Harmony of the Seas. We are very satisfied with our excursion to Cassis and the Calanques and recommend the tour to others. This is one tour I would recommend through the ship, since you are so far away from port and there is a lot of traffic that you may run into.
Check out our video on our day in Cassis.
Leave any comments about our day in Cassis below!