Our port day in Marseille, France
Marseille, France is the second largest city in France; right after Paris. Located along the Mediterranean Sea, it is the sunniest and driest major city in France. Therefore, with about 300 sunny days a year, you have a good chance of enjoying your vacation without having your plans rained out!
Marseille is the oldest city in France!
Marseille is France's largest port. The world's largest cruise ship, Harmony of the Seas, sails in during its Mediterranean itinerary. That's why we showed up in Marseille. After researching the city, we still were unsure of what to do. So, what IS there to do?!
Things to do in Marseille, France:
Enjoy the Hop on Hop off bus tour of Marseille. Visit some of the town's highlights while listening to the commentary along the way.
Take the 20 minute boat ride to Ile de Chateau d'If. This is the 16th century fortress that became a prison and is noted in the novel "The Count of Monte Cristo."
Visit Cathedrale de la Major. Known for its Turkish-style dome and colorful marble alter, it is one of Euope's largest cathedrals.
Visit Basilique Notre-Dame de la Garde. A beautiful church high up on a hilltop that used to be used as an observation point.
Basilique Notre-Dame de la Garde from our tour bus.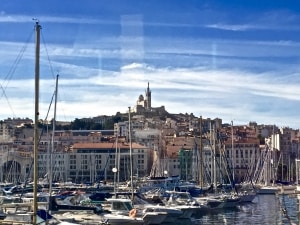 Visit Vieux Port. Also known as Old Harbor, this is where Marseille began as a Greek Port. Vieux Port is a picturesque harbor with boats packed in together. Linger along the streets lined with restaurants, cafes, and boutiques alongside fisherman or even millionaires coming ashore in their yachts!
Passing by Vieux Port.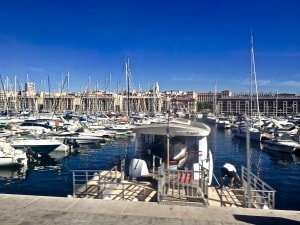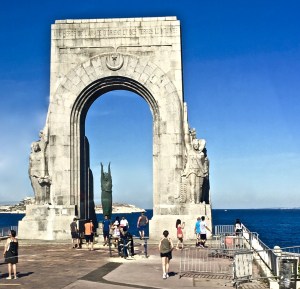 One of about 36,000 memorials made in France after World War I, this is Monument aux Mort (War Memorial). The inscription reads "For the Heros from the Army of the East and from Distant Lands" in French.
What did we do on our port day in Marseille?
On our port stay in Marseille, we decided to visit nearby Cassis. In addition, we wanted to see the unique views the Calanques offer. Cassis is a former Roman trading post that is found at the bottom of one of Europe's highest cliffs, Cap Canaille. With panoramic views from our tour bus, we made our way along La Ginette.  Then, we boarded the tram to Cassis.
Feel free to leave any comments below!