Naples is one of Italy's most touristy towns! If you are visiting Naples, then you are probably trying to figure out what you are going to do. When we visited the Napoli port on our recent cruise, we climbed Mt. Vesuvius, visited the Amalfi coast, and explored Pompeii via a tour company Rome In Limo, which I highly recommend!
10 Things to Do in Naples:
1 – Visit Pompeii
It is an ancient Roman city that was buried in debris from the volcano, Mt. Vesuvius. Many people here were "frozen in time." You can tour the city on your own or take a tour (advised). I advise to spend at least half a day here, more if you can! Go early or after 1PM to avoid the long lines.
Cost is 13 Euros. Under 18 are free!!!
Hours: April 1st – October 31st: 830 AM to 730 PM (last entry at 6 PM). November 1st – March 31st: 830 AM to 5 PM (last entry at 3.30 PM).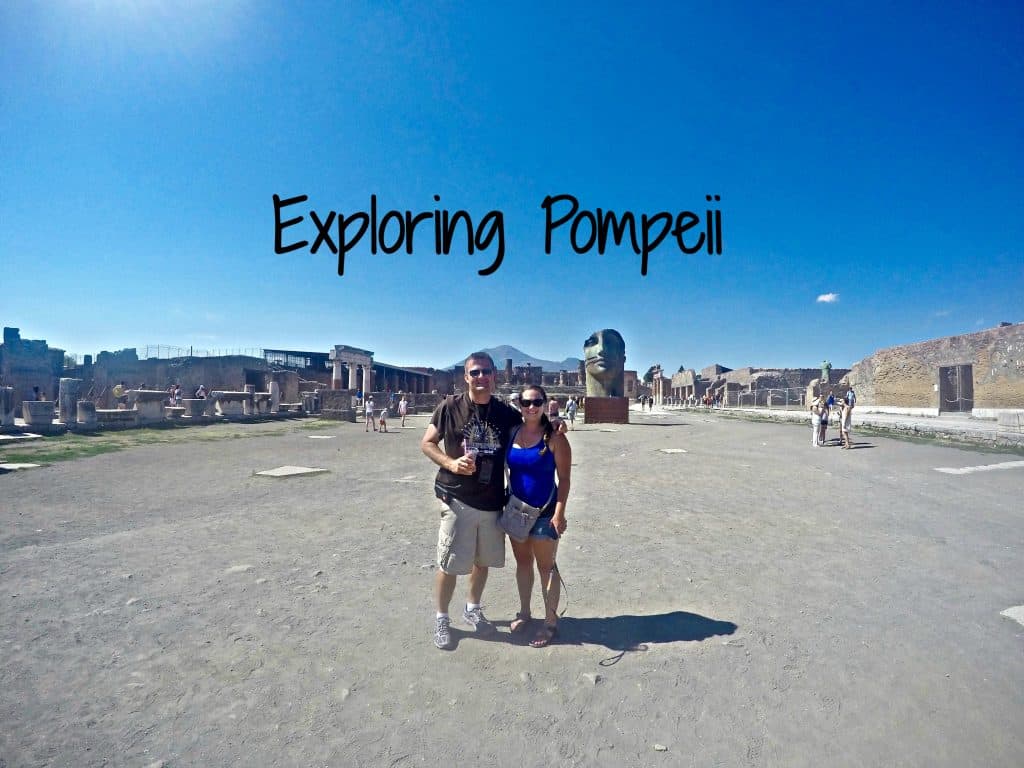 2 – Visit Herculaneum
Another ancient Roman city that was destroyed by the Mt. Vesuvius eruption. It is more well preserved than Pompeii and gives you a better idea of what the city looked like.
Cost: 11 Euros (I advise the 5 site ticket if you are visiting Pompeii and Herculaneum. It is only 22 Euros and you can use it for 3 consecutive days.) Under 18 are free!!!
Hours: April 1st – October 31st: 830 AM to 730 PM (last entry at 6 PM). November 1st – March 31st: 830 AM to 5 PM (last entry at 3.30 PM).
3 – Visit National Archaeological Museum
No trip to Pompeii is complete without a stop at Europe's largest and most important archaeological museum! Here, you can view the excavation findings from the cities destroyed by the eruption of Mt. Vesuvius.
Cost: 8 Euros
Hours: 9 AM to 730 PM Open every day except Tuesdays.
Climb one of the the world's most dangerous, ACTIVE volcanoes. You can hike up the steep trail to the top of the volcano and walk around the crater. Check out views of the Bay of Naples on a clear day and peer into the crater. You can sometimes see the steam vents. Some say this volcano is a ticking time bomb, overdue for an eruption.
Cost: 13 Euros
Hours: Varies throughout the year. Remember it is cooler up there!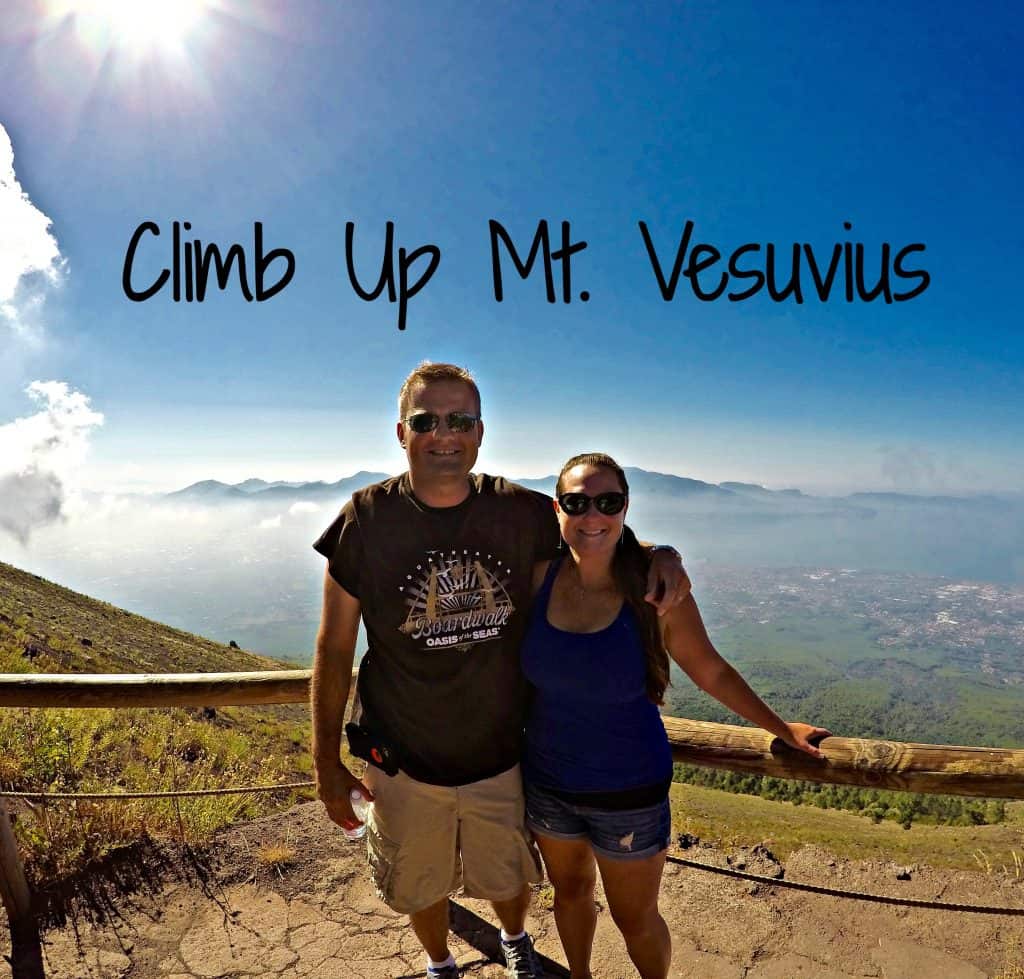 5 – Helicopter Tour
Take a helicopter tour of the Napoli city. I recommend a flight over Mt. Vesuvius to look into the crater (and to snap a picture of the trail you hiked to the top!) You can also tour the Amalfi coast views.
6 – Visit the Amalfi Coast
The Amalfi Coast is comparable to California's Highway 1 through Big Sur. It features towns set in the steep, picturesque cliffs for 30 miles between the cities of Sorrento and Amalfi. The road, SS 163 Amalfitano, is built at a very steep angle and zigzags along the coast. (We had a driver and it was nice to enjoy the view instead of paying attention to the dangerous road!) You could easily spend a whole day here visiting the towns and I recommend spending a few days in the area!
7 – Visit Positano
Positano is one of the Amalfi Coast towns hidden in the steep, oceanside cliffs. It is known for its picturesque staircases and whitewashed houses positioned in the vertical mountainside. Walk along the streets and souvenir shop. Positano is famous for their handmade leather sandals. You can watch them make the sandals right in front of you. They are so stylish (I wish I had bought a pair but they were expensive!).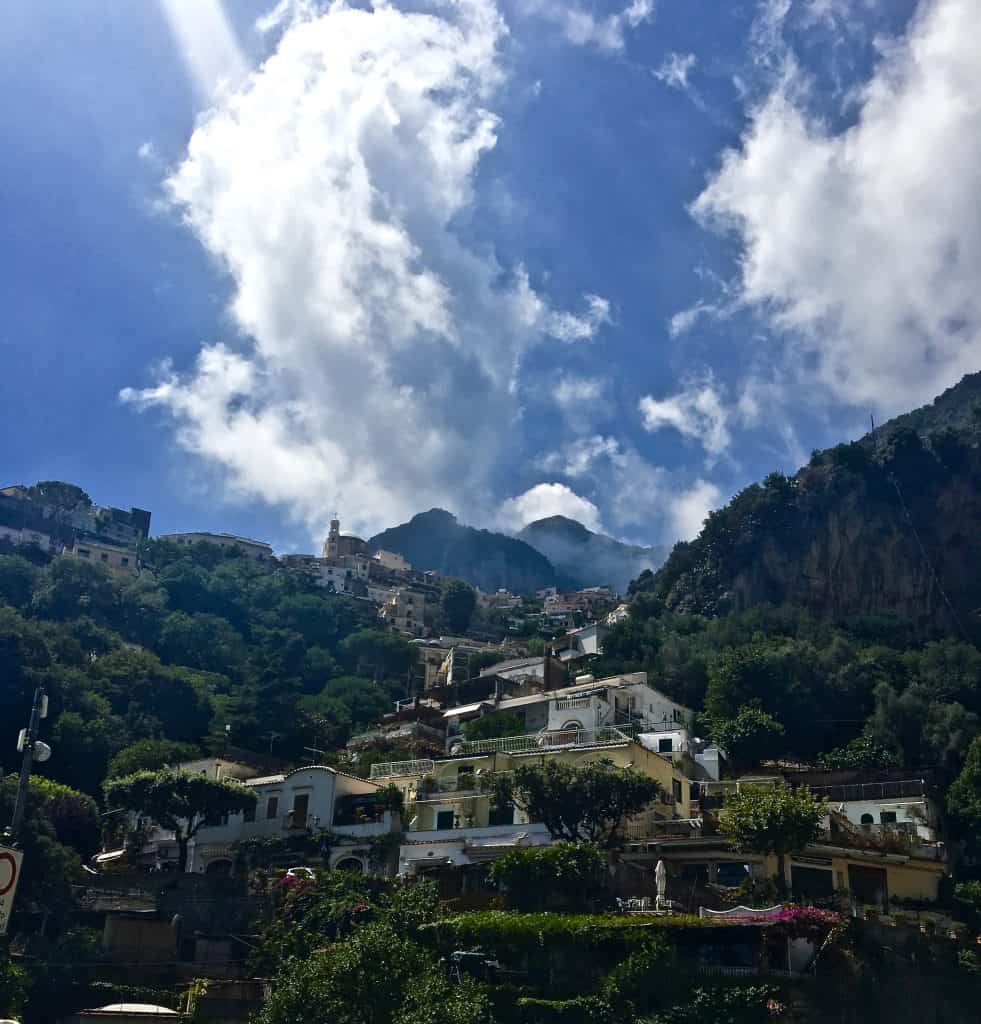 8 – Eat Pizza!
Naples is the birthplace of pizza and it is taken seriously. Sample different kinds of pizza, but, make sure you try the original, pizza vera Napoletana – Pizza Margherita! It is made with San Marzano tomatoes (from the volcanic fertile crops nearby!), sliced mozzarella, basil, and extra virgin olive oil. It is then cooked in a stone oven. Mmmm! Wish I had some now!
9 – Tour the Naples Catacombs!
Rome isn't the only city with honeycombed, underground ruins under the city! Naples, too, is built like layers of lasagna. I have not personally done this tour but it is on my bucket list!
10 – Visit the Castles and Churches
There are several in the Napoli area, including the chapel Capella dei Sansevero that features the Veiled Christ statue.
Due to the fertile soil from the past volcanic eruptions, the area is known for many crops such as lemons, tomatoes, olives, and wine.
Naples is known as a mob city. It is home of the mafia! But, other than purse thieves and pick pockets, the organized crime does not impact the tourists.
When deciding to walk in Naples, bring a map and know there are a lot of hills!
The area around the train stops can be unsafe. It is not advisable to be there after dark. If you are a woman, do not travel here alone.