Rock climbing walls are one of many cruise ship perks these days!
Rock climbing has been one of the perks on cruise ships for 17 years now. They were first introduced by Royal Caribbean's Voyager of the Seas cruise ship. Since then, they have gotten higher and more daring.
Rock climbing is a free activity on the Royal Caribbean cruise ships. Young and old participate in this activity! It is fun to watch the adults act like big kids (me!) trying to make it to the top! I've seen people face plant into the wall on their way down. Once you know they are ok, it makes for a good laugh!
Harmony of the Seas, the largest cruise ship in the world, has two 43 foot rock climbing walls on the back of its ship. Like its sister ships, Allure of the Seas and Oasis of the Seas, I tried my best to climb to the top of the rock wall. I'm getting a little higher each year!
As you will see in the video, Chris thinks it is funny that despite me working out, I can't make it to the top!
Will I make it to the top of the rock climbing wall this time?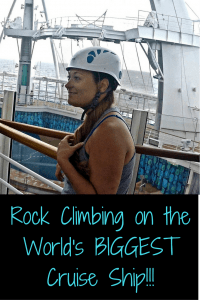 Do you have any tips to help me make it to the top?!