With the internet available to answer questions at our fingertips, should you book travel through a travel agent?
I booked a trip to Alaska using a travel agent for the first time this year. I was so excited for someone else to do all the "dirty work" so I would be able to research some of my other trips for the year. It all started off great, then it turned a corner south.
Initially, I was asked for fill out a questionnaire of what I was looking for, my travel style, etc. I received a reply in a timely manner of a trip that was 4 days longer than what I requested. No big deal. But, did they even read my questionnaire?! I was pretty specific in what I was looking for.
Having read about the area over the past several years, I was aware of some of the activities I wanted to do. I felt like I was just telling the travel agent what I wanted for her to book. After this was all worked out, I received my finished itinerary. As an OCD type person, I wanted the specifics all at my fingertips. Waiting until a week before the trip to get the specifics for the itinerary was stressful.
How did my travel agent planned vacation go?
The first day started off great. But, by the second day of the vacation, I was more than disappointed. The taxi we were supposed to have take us to the train station refused to take our voucher. No biggie. I paid the $15 to get there. I walked into the train station, hopped in the first class ticket line, got our tickets, and stood in the line to get our seat numbers (which were on a first come first serve basis). Then, when I was asked to show my ticket, I was told that I was in the wrong line. I had a coach ticket. WHAT?! I had PAID for a first class ticket to make the trip as special as possible (for our anniversary).
The travel agent didn't answer when I called.
I called a few more times, but still no answer. While I flipped through my paperwork, I realized that some of the trip had been contracted to another travel agency and I called them. No one answered. Of course, it was a Saturday! Everyone must have been off work. So much for the help. I proceeded to the coach line. Despite being one of the first people at the train station, I was directed to the BACK of a very long line to get my coach train seats.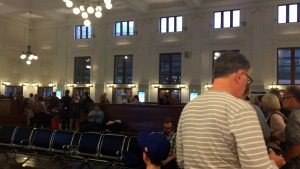 While on the train, I emailed our travel agent about our situation. I was worried about the rest of the trip and if our driver was going to be at the train station to take us to our cruise ship. When we reached the next train station, I received a reply assuring me the rest of the plans would go smoothly.
Other than the weather (can't change it!) canceling our flight to Denali, the rest of the trip went smoothly. There were a few details I was unsure of. We did miss our hotel bus to the train station because we weren't told what to look for and there were no signs on the bus telling us where to go. Luckily, we found someone to take us where we needed to go.
It's details like this, that are usually in the confirmation emails that are necessary for someone to have for things to go smoothly!
It also took over a month to get the difference in what we paid and services received. And, that didn't include the taxi ride. 🙂 In the end, I personally felt like I could have planned this vacation and done better myself. I haven't completely ruled out working with another travel agent, but I will have to think about it!
These days, it is easy to look up anything on the internet. But, is booking a vacation on the internet better than going through a travel agent? Here are some questions you will want to ask yourself.
Do you have the time to research your destination?
I spend a lot of time researching my destination. It is important to do this for a number of reasons. What will the weather be like? You don't want to book a trip to a beach vacation when it's cold! What about health concerns, such as epidemics? Do you have time to research the vaccinations you may need? When I visited Italy, it was getting close to their vacation time. That meant more shops and restaurants were closing. Luckily, this did not affect me. Also, I had to know about validating my ticket for the train to avoid getting a ticket. There's so much to learn about destinations. Are you going to educate yourself about your destination in comparison to that of a travel agent?
Is it cheaper to book through a travel agent?
Travel agents often say that they can get better prices for travel. In my personal experience, this is not true. I think you can research a destination on your own and come out in the green, as they say. Some travel agents will persuade you to stay at a place in which they get compensated for. You could possibly find a better place for your money.
It may be easier and cheaper for a large group to book their travel through a travel agent, but this is something that an experienced traveller can do, as well.
Will your travel agent be available if you need them?
Find out if your travel agent is available via phone if something goes wrong. Ask about hours of availability and what to do if something goes wrong and there's no one available (like in my example!).
Is your travel agent knowledgeable about the destination?
You want to know what activities and restaurants are a "don't miss" in your destination. Which tour company is best and which ones should you avoid? What activities are a waste of time or are better recommended to fit your travel style? Can they get you a discount or service that you would not be able to on your own? Make sure to find a knowlegeable travel agent.
How reliable is your travel agent?
I specifically looked for a travel agent with an expertise in the destination I wanted to visit. I studied backgrounds and reviews of others to make sure I picked the best. You never really know how things will turn out. I recommend finding a travel agent by word of mouth from someone you trust.
Who should use a travel agent?
If you are looking for a cheap family vacation, then a travel agent is NOT for you. I advise a travel agent for the inexperienced travelers, an unknown destination, a complex itinerary, or a large group. If one of those doesn't fit your description, then hello internet search engines!
Do you have any travel agent tips?! Comment below!