Trip to Fairbanks, Alaska in the winter?!
I've always wanted to see the Northern Lights. So, when Chris decided to go on a guy's trip, I jumped at the opportunity to mark the Northern Lights off my bucket list! A trip to Fairbanks in Alaska! Chris thought I was joking. "You aren't going to Alaska by yourself." We have been together 7 years, so he should know better than that by now! This independent gal has NO problem seeing the world solo or accompanied!
As soon as Chris's trip was booked, I started booking mine! I started getting excited about all the different activities I could do! He was going to Vegas where there was something to do at all hours. Little did I know, I would get less sleep than him!
The trip begins!
The trip started on a Thursday morning at 5 AM. I was upgraded to first class thanks to my elite airline status! Yay! "This vacation is already going better than planned," I thought.
It was going to be a LONG day of flying. I flew from Nashville to Chicago, then to Seattle. In Seattle, I stopped for some fish for lunch and got a massage while waiting on my next flight. Then, it was off to Fairbanks! I took a nap on the plane and when I woke up I saw one of the prettiest views I have ever seen.
I actually gasped out loud in awe! Check out the view!
All flights were on time and I arrived just before 5PM. I called the hotel for their free shuttle bus to pick me up. As soon as I stepped out of the airport lobby, the cold hit my face! So, that's what Alaska feels like! So cold that it would make the snot in your nose instantly freeze! (Yes, I just said that- it's true!) The ride to the hotel was my first adventure. I was surprised how fast our driver could drive in the snow covered roads! I was told that the hardest part was stopping at the red lights and that's where he sees the most accidents.
At my hotel-SpringHill Suites in Fairbanks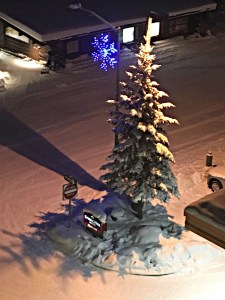 I quickly checked into my hotel room and went through my winter weather gear I had rented from Alaska Outdoor Gear Rental. Tonight, I was going on my first tour at 9PM. Since I had a few hours, I headed downstairs to grab a bite to eat in one of Fairbanks' top restaurants, Lavelle's Bistro.
I sat at the bar since I did not have a reservation and met a couple that were in the military in Fairbanks. It was interesting talking to them about their time in Alaska and places I should go. After finishing my shrimp and soup, I made my way to get dressed for my below freezing cold night!
My food from Lavelle's Bistro.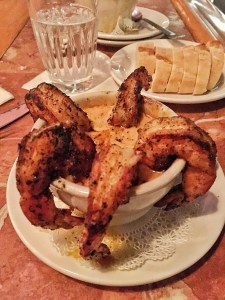 I wasn't quite sure what to wear in -40 degree weather.
I decided I would dress in layers. LOTS of layers. I get cold really easy and I did not want this to ruin my trip. I put on my snow overalls and then decided I might want to put my Carhart overalls on too. Needless to say, by the time I put the heavy parka on, I could barely walk!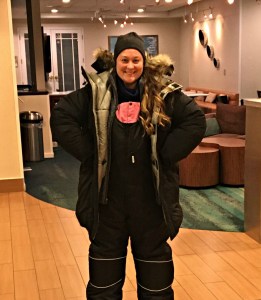 I headed downstairs for my Northern Lights tour. You can read about it in more detail here. It was a fun night, despite not getting to see what I came for. Of course, I met some nice people while hanging out in the lodge discussing how to photograph the Northern Lights.
Exhausted, I made my way into bed at about 430AM. I had to get up early the next morning as my tour started at 9AM!
Day #2 in Fairbanks!
I had barely any sleep because I was SO excited about my day. I finally got up at 630 and started getting ready. The hotel had a wonderful breakfast that I forced myself to eat some of, trying to overpower my excitement.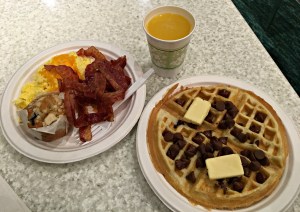 Thanks to Steve with Greatland Taxi and Tours Service, I ended up adding a tour of downtown Fairbanks for the day. A guy from Seattle joined the tour so he could go to the Chena Hot Springs later that evening. We toured some of the old city and drove down snowy roads that looked like pictures in a book.
Downtown Fairbanks
The Morris Thompson Cultural and Visitors Center was educational. I learned about the way of life in Alaska.
I was entertained by the outhouse in the art gallery at the Museum of the North.
The Museum of the North provided information about life in Alaska. While waiting to watch a presentation on the Aurora, I chatted with one of the people I had met from the night before. I wasn't the only one in Alaska by myself!
When I left the auditorium and looked out the window, I noticed this big beautiful halo over the sun that looked like a rainbow. I've never seen anything like it! There was a group of people taking pictures and I joined them. In a hurry, I snapped a few and headed towards the door for Steve who was waiting on me.
Here is the picture of the sun dog phenomenon. Little did I know, the next day I would meet one of the other people in that room!
It was also cool to see the Trans Alaska Pipeline System in person. The pipeline zig zags from Prudhoe Bay to Valdez. Half of its 800 miles are insulated and elevated above ground due to permafrost. If the pipeline was on the ground, the heat from the oil could thaw the ground making the pipeline unstable.
Santa! I see him! I see him!
Except, I didn't. 🙁 But, I did get to sit in his chair! Next stop, was the cute little town of the North Pole where Santa's Toy Shop is. Originally, I was told, it was meant to be a manufacturing city to produce toys that would be stamped with "Made in the North Pole." Unfortunately, it was too expensive to transport products to and from the area and the weather conditions were not ideal.
The town of North Pole has a Christmas feel all year round. Some street names are "Candy Cane Lane," "Santa Claus Lane," and "Snowman Lane." A lot of the poles are spiraled in red to resemble a candy cane. And the area boasts the world's largest statue of Santa Claus. It weighs in at 900 pounds and is 42 feet tall!
Santa's reindeer can even be found in the North Pole!
Next stop, Chena Hot Springs!!!
On the way to Chena Hot Springs, we saw many moose along the side of the road. The road was snow covered the entire way and we did see one man shoveling around his vehicle after he had wrecked.
Chena Hot Springs boasts the world's largest ice museum. It stays a cold 25 degrees year round and contains many ice sculptures illuminated with colorful lights. Here, you can have their appletini (made in Chena!), get married, or spend the night! I opted to just look around.
Inside the igloo you can find a xylophone to play!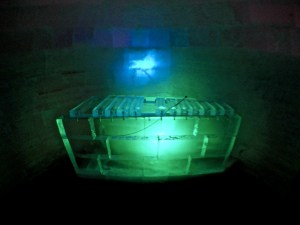 One of the things I HAD to do on this trip was visit the hot springs. The water at Chena Hot Springs is 165 degrees! Therefore, it must be cooled before you can swim in it. It was dark when we arrived at the hot springs and the stars were shining!
I changed into my swimsuit and met up with the 2 other people on the tour in the inside pool. I must say, this wasn't the brightest idea! Now, I was wet and had to go outside in the -40 degree weather! Plus, I was going to have a cold, wet towel when I got out. I moved as quickly as I could into the water.
The water is warm and you can only move in so quickly.
I made it to my waist and had to slow down because the water was so warm on my cool skin. Then, I slowly moved in the water just above my shoulders. It was so relaxing and I was not cold at all. In fact, there were times I would get so hot, that I would have to move to shallow water to cool my upper body. There were areas along the wall that were much hotter from where the water was piped into the swimming area.
The steam from the water kept my head warm. I laughed at the 2 people I was with because they had gotten their hair wet and it frosted over to make it look gray. They ridiculed right back that my frizzy hair and eyelashes were the same way! The steam had gotten my hair wet and frosted over, as well.
After what seemed like an hour, we decided we were getting too hot so we decided to leave. I crawled like a crab…maybe it was a chicken, until my body was mostly out of the water. Then, I quickly made my way inside to change.
Here's what I looked like as soon as I got out of Chena Hot Springs. Most of the frost had melted.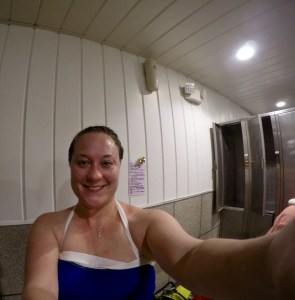 We made our way back to Fairbanks and I went on another tour with Steve to find the Aurora. This time we got lucky! You can read about this AMAZING night here! I made it to bed about 5 AM that night. I was exhausted, but still excited about the day to come!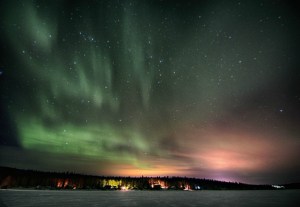 After breakfast, it was time to go ice fishing!
Steve picked me up at 9AM to go ice fishing. First stop was to get my fishing license for the day. Then, we headed out to the lake! The lake with the ice houses was so picturesque. And, for 2 days in a row, I saw a sun dog! It was difficult to determine which one was the sun!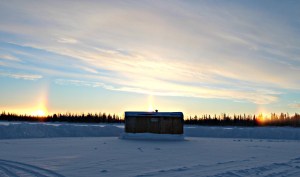 Here I am ice fishing!
Steve and his friend had to make a hole in the ice for ice fishing. It was about 6 foot deep. When they reached water, it started rushing out of the hole. Steve said to watch because fish may come out of it due to the suction effect. Unfortunately, it didn't happen.
As soon as I started fishing, a state trooper came over. After the small talk, he asked for my fishing license. I said, "What's that?!" He gave me a "No way!" look. Then I giggled and handed him my license. I asked him where his camera crew was. You know, because they have those "Alaska State Trooper" shows. He told me they stopped doing that last year. I didn't have long to fish and, sadly, I didn't catch any.
Next up, I had to get to the airport for my flight to Coldfoot! You can read about my Arctic Circle adventure and watch the video here!
The last activity of the trip was dog sledding!
I booked a tour with Golden Heart Dog Tours for some evening sledding since that was all the time I had available. Laura was the musher of all the excited dogs! I watched as all the dogs lined up for the ride! They all seemed to obey so well!
When it was time to get going, Laura assisted me into the sled and covered me up. The sled ride began! It was SO much fun watching them pull me in the sled. These dogs could have taught my dog a thing or two when I was a kid! I always tried getting my dog to pull me in a sled and he would just lay down. Not these dogs! They ran as Laura made calls to them along the path.
Dog sledding with Laura was so much fun, and interesting.
Laura told me about how she placed 46th in the 2015 Iditarod race. She finished in 12 days! That's a LONG time to be all alone out in the cold and she did experience frost bite. It took her months to get the feeling completely back in her feet.
With all my planned activities complete, it was time to return home.
I made my way back to the hotel and went to Lavelle's Bistro one more time. Boy, their food is delicious! I had the special for the evening and a chocolate cream brûlée for dessert!
After the delicious supper, I made my way back to the airport. There was a delay in the flight because the freezing cold caused a computer error. After several hours, they finally cancelled the flight. I was so exhausted! I stayed at the Fairbanks airport for 9 hours before the plane departed. After 25 hours of traveling, I made it home from my trip to Fairbanks, Alaska.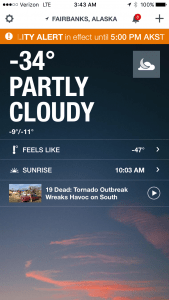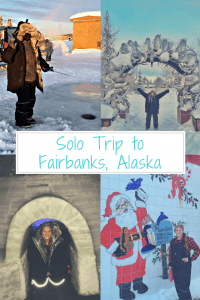 And that concludes my trip to Fairbanks, Alaska! It was the trip of a lifetime! I LOVE Alaska and I can't wait to go back! Feel free to comment below! I love the comments!