Swimming with manatees in Crystal River, Florida is an experience I will never forget. The loving, curious "sea cows" are gentle animals, but are also endangered wild animals. And, for that reason, here are some tips to help make the experience the best it can be.
Tips on Swimming with Manatees
Make sure you practice passive observation. Let the manatee come to you, instead of initiating contact. Keep your distance.
Do not attempt to disturb a sleeping manatee or separate one from its group.
Go as early in the day as possible. The manatees go out to sea during the day.
I suggest using a manatee tour company. They help you find the manatees and inform you of what to do and not to do. That way,  you do not end up in jail or with a huge fine! Plus, you may find a Groupon or coupon for some of the tour companies.
Be still. Manatees are curious creatures and may check you out.
Do not make a lot of noise or splash to scare the manatees away.
Don't forget a water proof camera to capture this bucket list experience!
Remember you are SWIMMING with the manatees. That does not mean step on their food supply! Keep your feet up.
Bright colors may attract the manatees to you. I had a yellow "noodle" float to help me stay on top of the water and they were curious about it.
The colder outside, the better. Remember, the manatees come to the springs to get warm. After you get in the water for a bit, your body temperature will acclimate to the water temperature.
Bring a towel and a hoodie or blanket to keep warm.
Bring a waterproof bag to keep your belongings dry.
Do not try to feed the manatees. If you see trash, dispose of it properly. We watched our tour guide remove a plastic bag a baby manatee was attempting to eat.
Most important: Remember they are wild, endangered animals. Don't do anything to jeopardize their well being.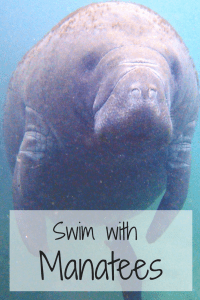 Have a comment? Post below: