I had been researching cities to visit for my "chasing Christmas" theme I was doing. I was looking at Dahlonega, Georgia where a Hallmark movie was filmed when I found a lot of pictures for Helen. Helen is a Bavarian style town located in the Blue Ridge Mountains with stunning architecture, cobblestone streets, and a German presence. I was surprised by how much there was to do in this town and wondered why I had never heard about it. Helen is actually the third most visited city in Georgia. Here are things to do in Helen, Georgia.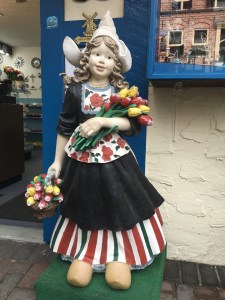 Check out the architecture.
The town is so picturesque. The Bavarian style of the town will have you snapping pictures as you walk through the town. My favorite areas are the windmill and the bright blue building when you first come into town. I loved walking along the cobblestone streets.
Try some German food.
You cannot come to Helen without trying some German food. There are many places to eat, but we chose the Old Bavarian Inn restaurant. There are many kinds of "wursts" as I call them; bratwurst, weisswurst, etc. We chose to share the dinner for two Schweine Haxen. (Don't' ask me to say it!) It came with Roasted ham hock, bratwurst, weisswurst, mashed potatoes, red cabbage, and sauerkraut. I was surprised by how delicious it was, but we could NOT finish it all they gave us such a big helping!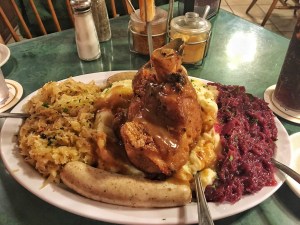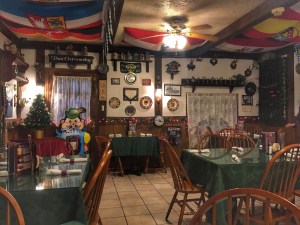 Another good restaurant to try, although not German, is Bigg Daddy's Restaurant and Tavern. Their sandwiches are huge and SO delicious! It's a great place to sit on the covered porch and watch the game.
When in Helen, do as the Bavarians do! Drink!
There is a lot of drinking opportunities in Helen. First off, it is a German town, so there are plenty of beers to try. If beer is not your thing, there are 21 wineries in the immediate area to try. We went to the Habersham Winery and for $7.50 we tasted 5 different wines, plus got to keep the wine glass! Wine tasting tours are also available to enjoy the Unicoi Wine Trail.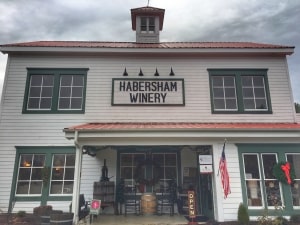 Go to Babyland.
The Cabbage Patch Babyland just 5 miles or so down the road is a must see! It is rated top 10 toyland in the WORLD and costs absolutely nothing (unless you buy a baby)! There's not a lot of advertisement for it and if it wasn't for a relative letting us know about it, then we wouldn't have even known about it. Being not much of a doll fan, I was surprised to really enjoy Babyland. Even my husband liked it!
Follow me on Instagram!
As soon as you pull up to the building, you will be amazed by the beautiful mansion and the Cabbage Patch statues on the premises. Inside, you will find many of the old dolls on display (some worth almost $50,000!), as well as new "babies" for purchase. My favorite things here were checking out the nursery, birthday party room, and watching a new Cabbage Patch "baby" be born. More information with video coming soon!
Take a carriage ride.
Alpine Carriage Company is available right downtown for a carriage ride around the town. Whether it be a romantic ride or a family outing, it is sure not to be missed!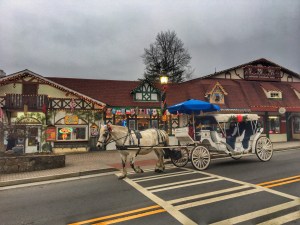 Visit Unicoi State Park
There is so much to do in this state park! Whether you want to just relax or be adventurous, there is something for everyone here. Zip lining, hiking trails, biking, swimming, fishing, canoeing, or taking the boat out on the lake are just some of the opportunities in this beautiful state park.
Hike Anna Ruby Falls.
One of the top things to do in Helen is hike Anna Ruby Falls. For $3 per person (ages 16+), you can hike the 0.4 mile one way, paved hike to the top to see the two waterfalls that meet to form Smith Creek. The walk itself is peaceful and picturesque as you walk along the riverbed.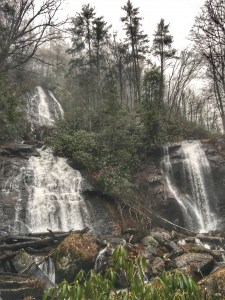 Eat some goodies!
There are several places to buy candy, such as fudge, peanut brittle, truffles, etc. My favorite was Hansel and Gretel Candy shop where I went TWICE to buy chocolate covered strawberries! There are samples of fudge in the stores, too!
Shop til ya drop.
There are over 200 specialty shops offering homemade goods and the like. Just walk along the cobblestone walkway to each store selling things such as candles, glass designs (you can even watch it!), quilts, wood art, etc.
Pan for gold.
Some of the early settlers to Helen came to mine for gold. Now, there are several places in the town to pan for gold and gems, such as sapphires, rubies, and amethyst.
Go mini golfing.
There are a few places in Helen where you can go mini golfing. Who doesn't love putt putt?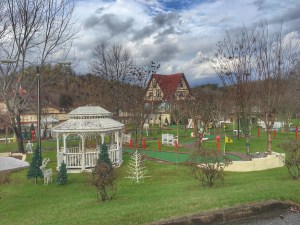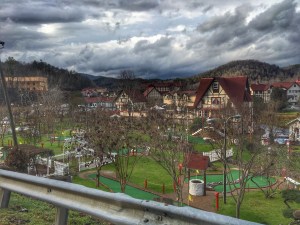 Go tubing on the Chattahoochee.
We visited in the winter, but we saw many advertisements for the water tubing and the river looked like it would be perfect for relaxing on a water tube!
If tubing the river is not your idea of fun, there is a water park in Helen with waterslides and a 1,000 foot lazy river.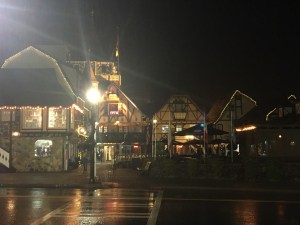 There is SO much to do in the beautiful town of Helen, Georgia. Despite its small size (2.1 miles), there are plenty of activities for everyone to enjoy.
Have you been to Helen? What is your favorite thing to do here?