East Tennessee is one of the best places to visit in the fall.
The temperature is perfect, the fall foliage makes the area so picturesque, and towns gather their people for fun events! Check out some of the things you should not miss in East Tennessee in the fall!
1. Spend an evening in Rugby for a "Ghostly Gathering."
What better way to spend the time in this Victorian English village other than this yearly Halloween celebration?! Enjoy a chili supper before touring Rugby's historic buildings dating back to the 1880s. Are there ghosts in the town? Find out and hear other spooky stories while sitting by a bonfire. Find out more information here.
2. Visit the Smoky Mountains
One of the most beautiful parks in America really shows off its magnificence every fall. The foliage is expected to be as beautiful as ever this year. There are many trails to hike (850 miles of trails!), my favorite being the Alum Cave Trail that is fun for all ages!
Restaurants in the Gatlinburg area also participate in the "Taste of Autumn," so don't forget to check out the seasonal dishes! I also recommend a bike ride through Cades Cove. It's an easy way to beat the traffic, and get some fresh air and exercise!
3. Check out the Mennonite community of Muddy Pond.
Visit the Muddy Pond Sorghum Mill, near Monterey, known for its delicious sorghum made by the area Mennonites. On Tuesdays, Thursdays, and Saturdays you can watch as they make their award winning sorghum syrup. Check out their store for local honey, home baked goods, and, of course, sorghum.
4. Attend Fall Colors Spooktacular at Fall Creek Falls.
Fall Creek Falls is one of the most visited parks in Tennessee. You can't miss the fun for the whole family at this event. Go on a boat ride or a hayride, or dress up the kids and go campsite trick or treating. All of this fun while you enjoy the beautiful scenery and fall foliage! This year, the event will be held on October 21.
5. Crossville Oktoberfest
Hosted by the Crossville Knights of Columbus, this festival in its 26th year is held annually the 2nd weekend of October. Give your taste buds a sample of German food, such as bratwursts, knackwursts, and weisswurts. There will be music and domestic and imported beverages.
6. Attend the Muscadine Balloon Fiesta.
Held at Tennessee's largest muscadine vineyard, this festival boasts wine tasting, music, lots of food, and fun activities for all ages. Make sure to stick around until dusk when the hot air balloon lighting, set to music, begins.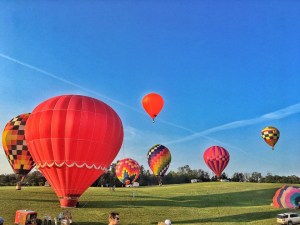 7. Go to the Allardt Pumpkin Festival.
This festival literally has something for EVERYONE! There's a parade, car show, kid's costume contest, crafts and food vendors. My favorite thing is seeing all the giant pumpkins and vegetables in the weigh off! This year it will be held October 7th. You can check out my time at last year's event here.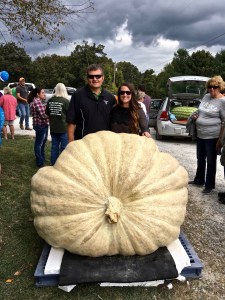 8. Unicoi County Apple Festival
One of the top events in the Southeast US, this award winning apple festival in Erwin invites over 100,000 people every year! It is held annually the first weekend of October, with this year being its 40th year. There's a pageant, lots of food and craft vendors, and activities, including the Apple Dumpling contest.
9. Wine Over Water
Located in Chattanooga on the Walnut Street Bridge (one of the world's longest pedestrian bridges), this offers you the chance to sample wine from over 100 wineries! To go with the wine, 15 local restaurants will be selling small plates of food for only $5. This year's event will be held October 7th and you can find out more information here.
10. Have a blast at Dollywood theme park.
Dollywood always goes all out for their Harvest Festival every fall. So many photo opportunities as you make your way through the park to enjoy the season's food or a Southern Gospel music concert. This year, there will be a new fall experience called the Great Pumpkin LumiNights! It will offer activities for the kids, including a glow maze!
11. Brave the Tail of the Dragon.
While the foliage may be beautiful, don't expect to go sight seeing here in Deals Gap. This 11 miles stretch of road along US-129 has 318 curves! You will find sports car and motorcycle enthusiasts from around the world on this road. Don't forget to take a photo with the dragon after braving the Tail of the Dragon!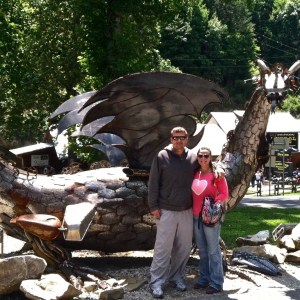 12. Visit Autumn Acres in Crossville.
Corn mazes, bonfires, a petting zoo, and good ole fall fun! This attraction is open weekends in mid September through November. They have some fun special events such as the Pumpkin Mud Run and Pumpkin Destruction Day on November 4th. If you bring your own pumpkin, you get a $2 discount to destroy your pumpkin with a wooden mallet. And, you don't have to clean up the mess! Find out more on their website.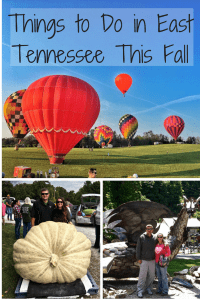 Do you have an event in East Tennessee you enjoy going to?! Comment below!