The Story of How I Wear My Wedding Dress Every Anniversary
It was a beautiful, sunny day when I picked out my wedding dress. Instead of shopping, I would have rather been outside enjoying the day. As I walked in the store, I noticed this beautiful dress on the mannequin. It reminded me of a Cinderella dress. One that just screamed, "I am the bride!" I was shown a few dresses to try on, but said I wanted the one on the mannequin. As soon as I put it on, I knew it was THE one and the rest is history! I had found my love dress for my wedding day!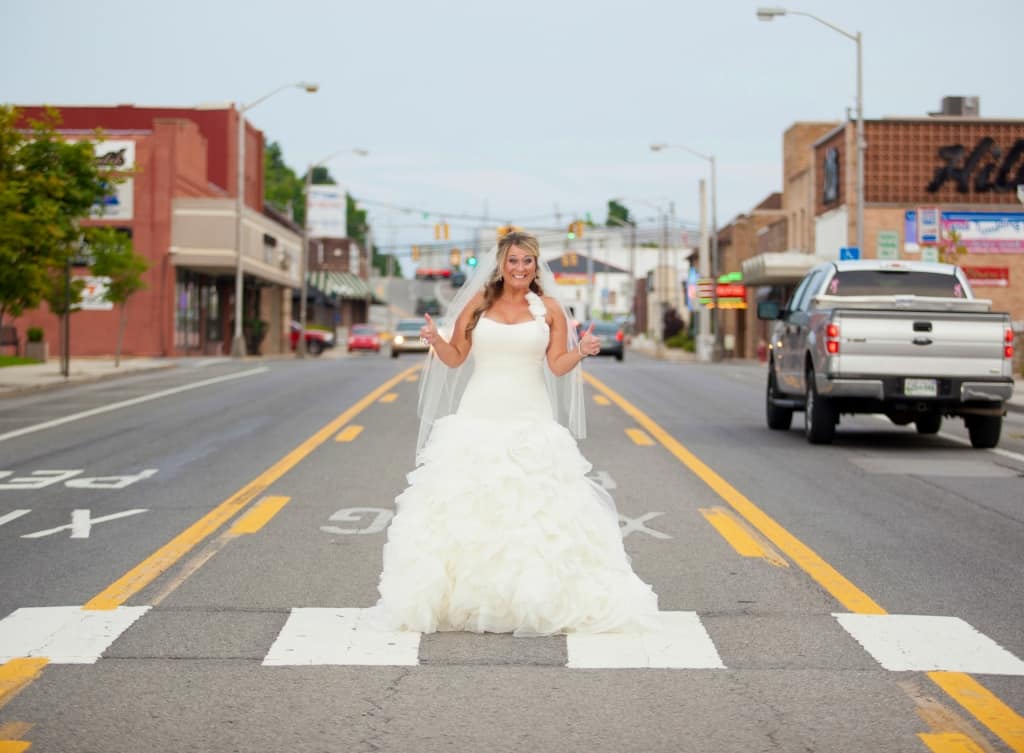 Photographer: James Crowley @ Crowley Studios, Dress: Vera Wang from David's Bridal, Hair: Amanda Richards, Make up: Robbie Moore, Place: Main Street in Crossville, TN
Looking back at my wedding day, the 2 things I haven't questioned are the man I married and that dress. The wedding day comes with many decisions to be made and comes and goes so quickly. I'm sure there is something you would change about your wedding. Looking back, you may think, "I wish I had worn my hair down." Or, maybe, you wish that you had gotten married somewhere else: on the beach, in the mountains, in a church, OR in a different country! Why not relive the romance of your wedding day by doing a photoshoot in your wedding dress every anniversary?!
Pictures from our wedding day!
On our wedding day, we chose the Saltbox Inn because of it's HUGE oak tree that I wanted to get married under. Plus, my favorite flowers were all around adding a perfect backdrop! It was the wedding of my dreams with friends and family! But still, there were things I would have changed.
I got this crazy idea to wear my wedding dress EVERY year, but in a different location since we LOVE to travel. It all started when my oldest son said he wanted to remake the day because he didn't have his hair spiked up for the pictures. Plus, it rained out a lot of the photos we wanted to take on our wedding day. So, for our first anniversary, we decided we would go to another location we had thought about getting married at, and do just that! And since we didn't get to bring our dog to our wedding like we initially planned, we brought him for the photo shoot, too!
One Year Anniversary Photo shoot on a Farm
It was fun putting the dress back on and reminiscing about our romantic day! The emotions from our wedding day flooded in. I remember the smile on my husband's face that didn't leave the day we married. That same smile was there as I put that love dress on for our anniversary. And since I did not want the boys wearing shorts on our actual wedding day, I let them wear shorts for this! After the photo shoot, I vowed I would do this every year but with a different theme! It would be like getting married over and over again with the love of my life!
Photographer: Sherry Phillips @ Gypsy Soul Photography
Photo shoot in Europe for our 2nd anniversary!
For our second anniversary, we decided we were going to Spain! So, I ironed my big, fluffy wedding dress (why?!), rolled it up and then stuffed it in my tiny carry on. There was NO way I was going to lose my love dress. Half way around the world we went with that love dress. We had SO much fun walking around the Gothic quarter of Barcelona, looking at the amazing architecture, and learning about its history. People stopped us to take pictures making us feel like celebrities! The best part was making new memories in what we call the love dress.
For our third anniversary, we are going to Alaska! We both LOVE Alaska. After flying to Denali National Park, we will land on a glacier and have our photo shoot there.
It is fun to relive the romance on the anniversary of our wedding day. I love the memories we make with our traveling love dress. I like that I can change it up every year by going some place exciting and new! Or, change up our color theme or hair style to mix it up. It is good to know that I am getting use out of something that most people will put away and not think about for years. Not to mention, it keeps my weight in check knowing that I must put it on every year. But, my favorite excuse to wear my love dress every year, is the smile I see on my husband's face and love that I can read in his eyes when he looks at me in it.
Do you have an extravagant idea on where we should go for our next photo shoot on the anniversary of the traveling love dress? If so, comment below!