There's a new hike in Cookeville, Tennessee near Burgess Falls State Park called Window Cliffs State Natural Area. French Naturalist, Charles Leseur, named it "Cane Creek Bluff" in the early 1900s. He actually sketched a drawing of the cliffs that is displayed in a museum in France!
Labeled a strenuous hike, this 5.4 mile round trip trail includes 18 creek crossings (9 each way)! As you can see in the video below, the trailhead is out in the middle of no where! There are portable toilets for use before your begin your hike. The hike is clearly marked with trail blazes and signage.
The trail going down is steep, narrow, and strenuous. It is the hardest part of the hike, especially on the way back up. There are areas that are slippery when wet and are near steep cliffs.
The creek crossings are so gorgeous!
The water comes up past the knees at some of the creek crossings. Be careful as there are a few slick rocks!
There's a side trail that leads you to a waterfall just before the window cliffs lookout.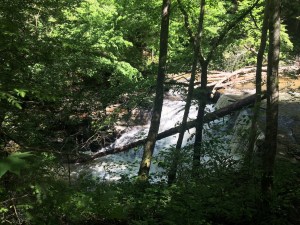 Window Cliffs lookout.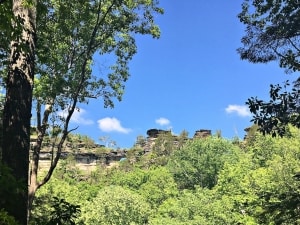 Window Cliffs are geological formations that look like natural bridges or "windows."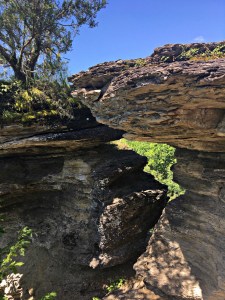 You can get a map of the trail like I did through Avenza Maps. It shows you were you are along the trail and was only 99 cents!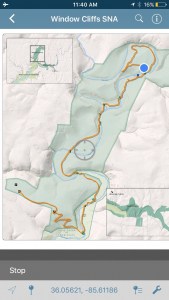 If it wasn't for the map, I wouldn't have known we went the wrong way down. As you can see in the video below, one of us falls down a small cliff on what we THOUGHT was the trail. Maps can come in handy! I like that this maps draws a line for where you have been and has icons displayed along the trail.
Tips for Hiking the Window Cliffs Trail:
Wear comfortable shoes you can get wet. Flip flops are NOT recommended.
Only carry what you need (water and a snack), preferably in a back pack to keep your hands free.
Pets are NOT allowed. (I did see one despite the clear signage – Follow the rules peeps.)
The Window Cliffs trail opens at 8 AM and closes 1 hour before sunset.
Hold onto the cable at creek crossings. Some areas are slick.
Do not try to climb on the Window Cliffs.
There are trekking poles available to borrow at the start of the trail.
Do not go alone. Bring a hiking buddy with you.
Be cautious of the creek bed crossings. Sometimes the area is closed due to high water.
Check the weather before you hike. Water in the creek beds could rise making the trail impassable.
Watch our video of our trip to Window Cliffs!
Map of Window Cliffs State Natural Area:
What were the butterflies doing in the video? Have you been to Window Cliffs? What do you think of it? Comment below!