Clearwater has clear gulf waters, sunshine, and white powdery soft sand beaches!
Clearwater, Florida is located off the Gulf of Mexico. It's stunning ocean views, white powdery sands, and local activities make it a top Florida destination. It was voted #1 beach in the US by TripAdvisor in 2016. While there are many activities to do in Clearwater, my favorite things to do are watching the sunset on the beach and visiting the local marine aquarium.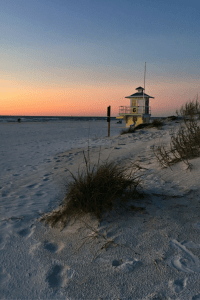 Clearwater Beach is a lively area with many restaurants and shops. You will find people playing volleyball on the beach, running, kayaking, and participating in other sports. A sunset cruise or a nature tour would be a great activity in this area. It is not uncommon to see dolphins swimming in the area. Manatees also have been sited along the coast.
My #1 suggestion for the area is a visit to the Clearwater Marine Aquarium.
The Aquarium helps rehabilitate marine wildlife that has been injured. It currently has 3 dolphins: Winter, Hope, and Nicholas. Winter and Hope's story has been made famous by the movies Dolphin Tale 1 and 2. The stories are inspiring! I won't ruin the movie for you, but, I will tell you that you can find out their REAL stories if you visit the Aquarium.
I recommend watching the Dolphin Tale movies before you go!
Nicholas, was found stranded with his mother, Noelle on Christmas Eve (hence, the names!). Unfortunately, Noelle died a few days after her rescue from 3rd degree burns. Since Nicholas was not yet weaned from his mother, special formula was produced just for him and he has done well!
I went to the aquarium about 2 hours before closing time. There were hardly any other people there and it was like I had the place to myself! I could watch the marine wildlife all day!
Here's a summary video of my time in Clearwater, Florida.
Have you been to Clearwater? What do you think of the beach or the Clearwater Marine Aquarium?!