A Hike to Piney Falls in Grandview, Tennessee!
One Sunday afternoon we decided to go for a hike. We wanted a hike that would only take a few hours maximum, as we had plans that evening. I started doing some research on nearby waterfalls and hikes, when I found this gem! Piney Falls is an awesome hike and a GREAT place to go swimming in the summer.
The Upper Piney Falls waterfall is located in the small town of Grandview, just off of FireTower Road. If you are coming from Crossville, it will be to your right just before you go off the mountain. Drive about 1.5 miles down a paved road and you will see the sign to the right with a small parking area.
The trail to the top of Piney Falls is quite easy. You must cross the top of the falls to make your way around and down to the bottom to get to the swimming hole. There is a steep cliff you walk alongside, so be cautious!
Standing on top of the waterfall!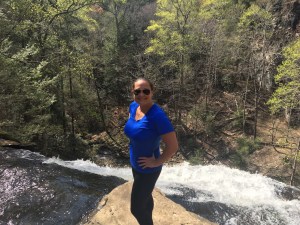 If it is wet, the hike to the bottom can be dangerous. There is a rope to get down a steep incline at one point. Once you get down to the bottom of the falls, there is a swimming hole to enjoy.
To complete the loop, you must go under the falls and follow the markers to get back to the parking lot. As you will see in the movie below, the markers are not always easily visible. We actually went the wrong way (yes…ALL of us didn't see the sign!) and had to back track our way to get to the point you climb up the rocks to head back towards the parking lot.
View of Piney Falls!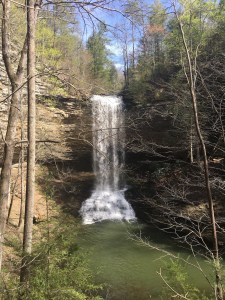 Map to Piney Falls!
Check out our video of the hike to Piney Falls!
Do you want to hike to Piney Falls? Did you know it even existed?! Comment below or share this beautiful gem!