It's crazy the things you will find at Unclaimed Baggage!
Have you ever wondered what happened with all the lost and unclaimed luggage from the airports? I found out where it goes! Turns out, after the airlines try to find the rightful owner and fail (about 3 months of tracing the owner), they sale the the luggage to this store called Unclaimed Luggage.
Unclaimed Luggage is located in Scottsboro, Alabama. It is about an hour northeast of Huntsville. This 40,000 square foot building is full of items lost by travelers. The store is organized into departments and clothes by size. It is so easy to find what you are looking for. You will find so many items brand new with tags. Looking for name brand sunglasses, a camera, laptop, or a surfboard (not joking!)? This place has just about anything! There was even engagement rings! Can you IMAGINE losing that?!
Here are some things to know about Unclaimed Baggage:
The employees put around 6,000 NEW items on the floor daily. So, you can go every day to look for something in particular and it might be there!
Saturday and Mondays are the best days to go. According to an employee, these 2 days seem to be the busiest. The more they sale, the more items have to be placed. So, the chances of finding something may be greater that day.
You can reserve a time to meet with a personal shopper to help build a style profile for you. Don't have a reservation? Stop by guest services to see if they have an opening.
The store can ship your items to your home for the cost of shipping.
There's a great place to eat inside the store called Cups Cafe. It was closed the evening I visited, but I have heard SO many rave reviews about how great the food tastes.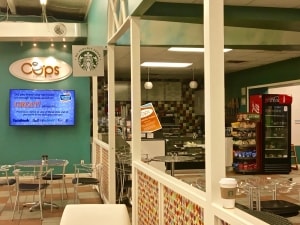 Watch this video of my trip to Unclaimed Baggage!
Where exactly is Unclaimed Baggage? Here's a map!
Have you been to Unclaimed Baggage! What did you find?! Comment below!