Wire Pass Slot Canyon leads to the world's longest, continuous slot canyon, Buckskin Gulch.
Wire Pass Slot Canyon is so close to the North Coyote Buttes area that we had to try it out. It was our first slot canyon! Entry is $6. (I think that's what it was!) This 1.7 mile, one-way hike provides access to the world's longest continuous slot canyon, Buckskin Gulch. There are many boulders and rocks you must climb over to access the slot canyon. But, the hike is worth it!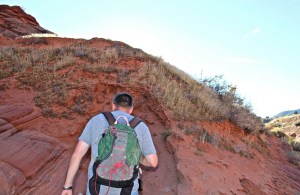 The slot canyons are very pretty but can be very dangerous. Wire Pass Slot Canyon is tall and narrow. When flash floods come, you better hope and pray you are not around. As little as a 1/4 of an inch of rain could make this place a death trap! There is NO where to go except for down the river with all the branches and debris. So, take my advice and do not go if there is even a slight chance of rain. Remember, even a rain shower 50 miles away could cause a flash flood in the slot canyons.
When walking along the slot canyon, it is easy to believe you are just coming to a dead end. But, the slot canyon continues. You can barely see Chris here as he walks through the Wire Pass slot canyon.
There is about an 8 foot drop off at one point. Usually, there is a log to help get down. But, the recent rain had washed it out. So, we had to go around. Here is a view looking down INTO the slot canyon.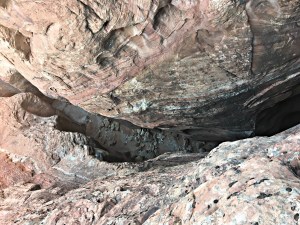 There are petroglyphs in the huge rock where Wire Pass slot canyon and Buckskin Gulch meet.
As you can see, there are petroglyphs made by the Pueblo Indians more than 700 years ago. There are big horn sheep and people shooting them with a bow. The dots that are in a curvy line are thought to resemble a map of the Buckskin Gulch.
Our guide said climbers make their way up the big crack in this sandstone rock!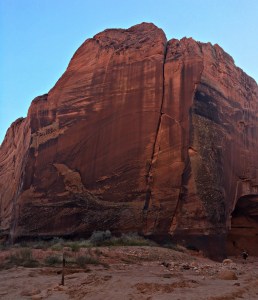 This is where Wire Pass meets Buckskin Gulch.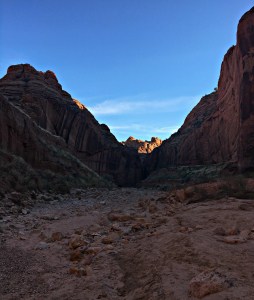 You could hear your voice echo when you talked. The sun coming through the opening in the rock was so pretty.
There was still water in areas of Buckskin Gulch. You can tell where an animal had come in for a drink and then left. Mountain lion tracks?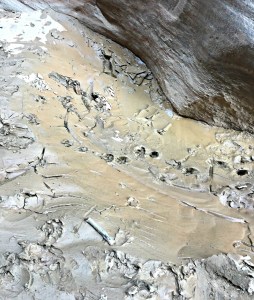 Here is some of the terrain we had to hike to get out of the slot canyon. The picture with my head down is right before I cut myself on a rock.
I only had 1 injury for the day! Somehow I hit my leg on a rock climbing out of the Wire Pass Slot Canyon. It tore my pants and caused a gash in my leg that later bruised quite a bit. Thankfully, I had a first aid kit with me. Those bushes are dangerous and I think were part of culprit for the injury. I had splinters in my hands from them that caused painful, yet small, infections. The splinters were unlike any other splinter I had ever had!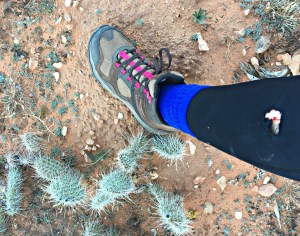 Watch our video of our day at the Wave. The slot canyon portion of the video is at the end. Enjoy!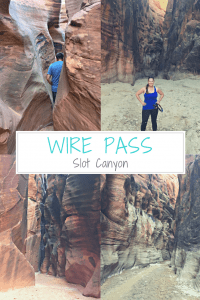 What is your experience with slot canyons? Would you do it?